The Common Causes of Jet Ski Accidents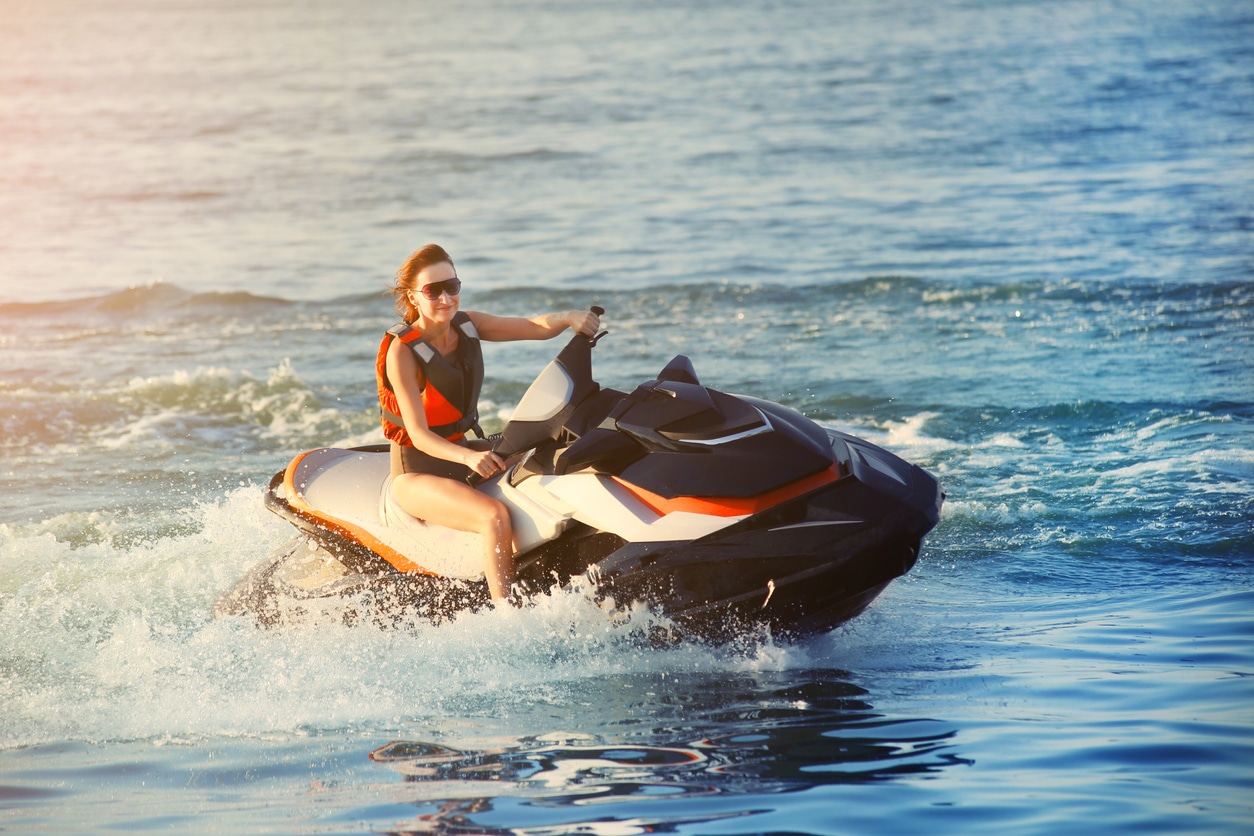 Written by Ronemus & Vilensky on April 2, 2021
 After over a year of living through a global pandemic, hard-hit New Yorkers are undoubtedly ready to celebrate the summer by spending time in the ocean and harbors. While riding jet skis and watercrafts can be great ways to spend time outdoors, the truth is that they are inherently dangerous vehicles. Unfortunately, jet ski accidents are more common than you think, and their effects can be devastating and long-lasting. If you've been injured in a jet ski or boating accident, contact your experienced and trusted NYC Personal Accident Attorney today.
Jet Skis are Involved in More Accidents Than Other Watercrafts
According to USCG, jet ski accidents account for approximately 20% of all reported boating incidents per year. Considering the average number of accidents is somewhere between 600-700, this makes jet skis statistically risky. These watercrafts can exceed 70 MPH, and riders are more exposed than passengers of boats, creating a more significant chance of accident or severe injury.
What are the Leading Causes of Jet Ski Accidents?
Recklessness & Inexperience- It's common for inexperienced riders to rent a jet ski for a day of fun on the water. However, without proper boating safety courses or knowledge of riding, novice riders are more prone to accidents and serious injuries. Contrarily, experienced riders may be overconfident and attempt dangerous tricks and stunts or speeding.
Driving Under the Influence- Unfortunately, a lot of the annual reported jet ski accidents are the direct result of riders under the influence of drugs or alcohol. This is prohibited in the state of New York, but this happens frequently.
Inclement Weather- As any New Yorker knows, weather can turn ugly in minutes. Fog and rain create limited visibility and choppy water, which is a perfect storm for a collision and/or accident.
Negligence- Whether there was a lack of safety signage on the water, or there was a blatant disregard for proper boating practices, these significantly increase the risk of accidents.
Faulty Jet Ski Design- Due to no fault of their own, riders of faulty or defective jet ski designs often succumb to injuries. In a current case, we are representing a 30-year-old woman who was severely injured from a Bombardier jet ski. While riding, she fell off the back of the watercraft, and the jet component was dislodged, rupturing both her anus and vagina. The orifice injuries sustained are serious and permanent. Our client has undergone a colostomy, has suffered nerve damage, she is unable to control her bowels, and has lost the ability to carry a child due to the scar tissue.
Bombardier is aware of this faulty design, and has since attempted to remedy the situation by adding a back to their jet ski seats to prevent passengers from falling off. However, this design improvement was only introduced after multiple lawsuits against them were filed for similar damages.
Collisions- Whether riders collide with other riders, swimmers, boats, or stationary objects, there's plenty of room of accidents to happen on NY waters.
I was Involved in a Jet Ski Accident, What Can I be Compensated For?
Each case is unique, but our law offices have proudly recovered millions of dollars on behalf of our clients. Injuries sustained can range from cuts and scrapes to life-altering injuries and even death.  Compensation includes, but is not limited to:
Medical bills
Rehabilitation costs
Pain and suffering
Lost wages
Lost earning potential
Death expenses
Contacting an NYC Accident Lawyer
Let us go to bat for you. In the case listed above, we purchased a duplicate Bombardier jet ski, built a seat back, and had it sent to California to run safety tests to prove our case. We will go the extra mile for our clients to win the damages and financial compensation you deserve after a traumatic jet ski injury. If you or someone you love has been injured or killed in a jet ski or boating accidents, contact the law offices of Ronemus & Vilensky today by calling 212-779-7070, or filling out our free, no-obligation quote form today.