New York City Police Brutality Attorneys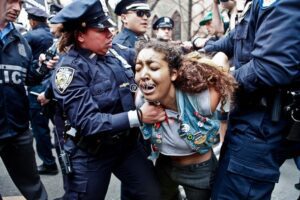 Uniformed NYPD officers exerting excessive force to contain civilians is just one example of police-related incidents. If you or someone you know had been violated by the police in any way, contact a lawyer to build your NYC police brutality case.
Our Experienced New York City police brutality lawyers and the law firm of Ronemus & Vilensky are by your side. We are all familiar with instances of police brutality, harassment, false arrest, discrimination, and assault & abuse in New York City that have been brought to our attention through the media.
In fact, civil rights attorney Robert Vilensky is representing Allan Feliz's family, an African-American man shot by police in 2019.
NY Post: Lawsuit Planned for Bronx Man Killed by Police
NYC Police Brutality is More Common than You Think
What many people don't know is that thousands of police harassment, false arrest, discrimination, and police abuse incidents occur every year that are not covered by media reporters.
The CATO Institute–a national organization that tracks cases of police brutality–states that over 4,800 police misconduct cases were reported in 2010 alone. Some of the most common legal problems involving police assault & abuse include:
Police Brutality
Excessive abuse–otherwise known as police brutality–is the most common police-related complaint in NYC. Police brutality includes physical attacks, firearm-related complaints, taser-related complaints, and complaints involving police dogs, vehicles or chemical weapons. Most fatalities associated with police brutality include cases involving firearms, physical force and tasers.
Police Harassment & Sexual Misconduct
Sexual misconduct & police harassment is the second-most-common source of police-related complaints. This covers consensual sexual activity while an officer is on-duty, sexual harassment, sexual assault and child molestation.
Police Discrimination
Police discrimination involves unethical activity by police officers revolving around–but not limited to–one's gender, race, sexual orientation or disabilities. False arrests, beatings, harassment by police officials fall under this category, as does racial profiling and unethical hiring & promotion protocols by NYC police departments that are based on one's race, gender or sexual orientation.
False Arrest
A false arrest occurs when a victim is held in custody without probable cause or without court approval.
New York City Police officers are trained to think clearly and act justly in the line of duty, regardless of the situation. However, sometimes police officers allow themselves to be influenced by other factors – including prejudice, power, emotion and reaction to fellow officers. This puts them in a dangerous position to potentially harm others via police brutality, sexual misconduct, discrimination, and false arrest.
Get a Free Consultation from an NYC Police Brutality Lawyer
Victims of police brutality, false arrest, sexual harassment and discrimination often sustain serious, undue physical and/or emotional injury. The New York City law offices of Ronemus & Vilensky have recovered millions of dollars in damages for clients who have been victims of these kinds of police-related incidents.
If you or a loved one has been a victim of police brutality in NYC, false arrest, sexual harassment, or police discrimination, contact us to ensure your legal rights are protected and that you are compensated for injuries both mental and physical. Our police brutality lawyers, harassment lawyers, discrimination attorneys have the expertise and experience needed to help you determine your legal options and the most effective course of legal action.
View Related Case Results