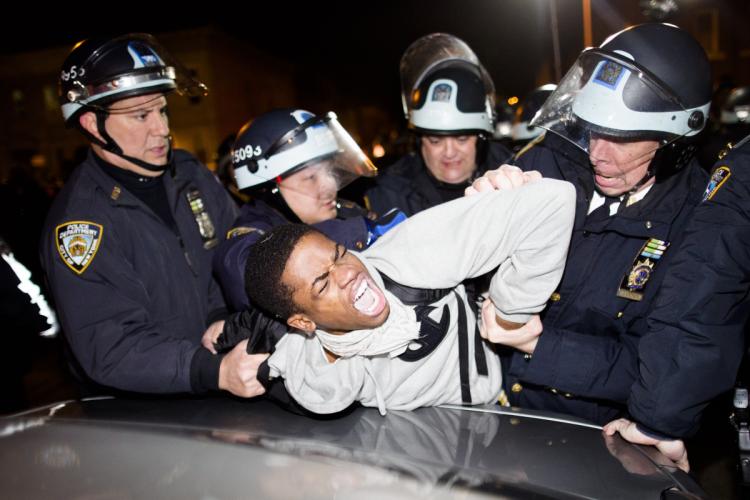 At Ronemus & Vilensky, we are familiar with instances of police brutality, police misconduct, false arrest, discrimination, and police assault & abuse in New York City that have been brought to our attention through the media.
What many people don't know is that thousands of police harassment, false arrest, discrimination and police violence incidents occur every year that is not covered by the media. In fact, the CATO Institute–a national organization that tracks cases of police brutality–states that over 4,800 police misconduct cases were reported in 2010 alone.
What is police brutality? Some of the most common legal problems involving police assault & abuse include:
Police Brutality
Excessive abuse, otherwise known as police brutality, is the most common police-related complaint in New York City. Police brutality includes physical attacks, firearm-related complaints, taser-related complaints, and complaints involving police dogs, vehicles or chemical weapons. Most fatalities associated with police brutality include cases involving firearms, physical force, and tasers.
Police Harassment & Sexual Misconduct
Sexual misconduct and police harassment are the second most common source of police-related complaints. This covers consensual sexual activity while an officer is on-duty, sexual harassment, sexual assault, and child molestation.
Police Discrimination
Police discrimination involves unethical activity by police officers revolving around, but not limited to, one's gender, race, sexual orientation or disabilities. False arrests, beatings, and harassment by police officials fall under this category, as does racial profiling and unethical hiring and/or promotion protocols by NYC police departments that are based on one's race, gender or sexual orientation.
False Arrest or Imprisonment
False arrest occurs when a victim is held in custody without probable cause or without court approval. It is more common than you may think. In fact, Ronemus & Vilensky receive numerous inquires each month from individuals claiming they were wrongfully arrested.
Accountability
Police officers are supposed to protect and serve their community and the people in it and make people safe. But what about those times when police officers are the cause of violence or misconduct?  When police officers overstep their bounds and abuse their authority, they must be held accountable in the eyes of the law, the police department, and their victims.
New York City Police officers are trained to think clearly and act justly in the line of duty, regardless of the situation. However, sometimes police officers allow themselves to be influenced by other factors including prejudice, power, emotion, and reaction to fellow officers. This puts them in a dangerous position to potentially harm others via police brutality, sexual police misconduct, discrimination, or false arrest.
Our Difference
Like any other citizen, NYPD officers are not above the law. It can be scary to come forward and speak out against police abuse and brutality. When you come to Ronemus & Vilensky, we will listen to you and take your case very seriously. We will make sure to:
Conduct our own independent investigation and find the identity of and expose the officer who injured you or violated your rights. We can search there the work histories, see if they have ever been involved in internal investigations, check their backgrounds, and more.

Gather evidence and find witnesses and get testimonies to support your claims and to testify on your behalf.

Use all of our skills and previous experience to make sure we get you all damages that may be recoverable, including money for emotional distress, medical bills, and any financial harm you may have endured.
Some Facts about Police Brutality:
More than 1000 people were killed by police in 2016 alone.

The Counted

is a database by The Guardian that keeps a count of people in the U.S. killed by police officers, and also provides demographic information.

Excessive force is the most common type of police officers abusing their position of authority and crossing into abuse and misconduct.

For every 1,000 people killed by police, only one officer is convicted of a crime.

Black Americans are more than two times as likely to be unarmed when killed during police encounters than whites. Native Americans are just as likely as Black Americans to be the victims of police misconduct.
Police Brutality Cases We Have Won
We

won a $2,300,000.00 verdict

for our client, a 20-year-old male, who was working on his car in a parking lot in the Bronx when several police cars came up to him. Officers got out of their vehicles with their guns drawn, and when our client got out of his car with his hands up, the officers threw him to the ground and proceeded to punch and kick him repeatedly. He was then arrested, before being released later that night. Our client was taken to the ER, where he was diagnosed and treated for back injuries, including a herniated disc in his lumbar spine. Following the assault, Williams began experiencing difficulty with memory and his ability to think clearly. Eventually, he lost his job as a car mechanic because of his inability to function in his job. He was diagnosed by a neurologist with post-concussion syndrome from a traumatic brain injury and also with PTSD. The police denied kicking and punching him, but the jury saw surveillance video showing what really happened, and awarded our client $2.3 million.

We

won a $1,000,000 settlement

for our client, who was falsely arrested for rape in 2003. He and 2 other men were picked out of a book of photos by a 13-year-old girl who claimed that her cousin had taken her to an apartment, where she raped by 3 men. When questioned, the cousin said she had been in the hospital at that time and could not have taken the other girl anywhere. The detective questioning her told the cousin that he would arrest her unless she admitted to taking the alleged rape victim to the apartment. Fearing for her safety, she told the cop what he wanted to hear. Our client continued to maintain his innocence for 2 years, submitting to DNA tests, before all charges were dropped when the girl's story was confirmed as a lie. We sued the police department for false arrest, malicious prosecution and civil rights claims. All of the assistant district attorneys admitted that they would not have prosecuted the case had they known about the detective's actions, and in the end, our New York City false arrest attorneys and secured a $1 million settlement for our client.
Victims of police brutality, false arrest, sexual harassment and discrimination often sustain serious, undue physical and/or emotional injury. The New York law offices of Ronemus & Vilensky have recovered millions of dollars in damages for clients who have been victims of these kinds of police-related incidents. If you or a loved one has been a victim of police brutality in NYC, false arrest, sexual harassment or police discrimination, contact us to ensure your legal rights are protected and that you are compensated for injuries both mental and physical. Our police brutality lawyers, harassment lawyers, discrimination attorneys have the expertise and experience needed to help you determine your legal options and most effective course of legal action.
Our Experienced New York City police brutality lawyers and the law firm of Ronemus & Vilensky are by your side.