Recovery Goes On After the Deadly Gas Explosion in Harlem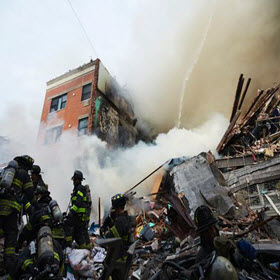 Written by Ronemus & Vilensky on March 16, 2015
The anniversary of the deadly Harlem gas explosion that killed eight people and leveled two buildings, also marks the beginnings of the process of holding Con Edison and the City of New York accountable for the loss of life, injuries, and tremendous loss of property.
The tragedy was caused by a leaky pipe that allowed gas to escape into the building. According to residents, calls had been made to ConEd complaining about a strong smell of gas just 20 minutes before the explosion occurred. Investigators at the scene found a high concentration of natural gas and a pipeline that was 125 years old.
Mayor Bill de Blasio pledged that the city would stand by the victims in making sure that their needs will be met. Victims like Eileen La Puma have asked Attorney Robert Vilensky of the law firm Ronemus & Vilensky to make sure this happens. Her disabled son was traumatized by the explosion, and has suffered a nervous breakdown.
Robert Vilensky who reported to The Daily News that he is representing at least 10 of the explosion victims also told the media that his clients are suffering from post traumatic stress, injuries and loss of home and property. They're scared. Afraid to walk by buildings," said attorney Robert Vilensky. He expects his clients will sue the city as well as ConEd for failure to adequately maintain the gas lines.
In The News:
NY Daily Post – Victims of East Harlem gas explosion file notices of claim against New York City – Read Article
BOSSIP – East Harlem Explosion Family To Sue NYC One Year After Disaster – Read Article 
Bossip – Video – East Harlem Explosion Victims Speak Out – Watch now
ABC7NY – Anniversary of Harlem Gas Explosion That Killed 8 Marked on Site – Read Article